At Pangea Money Transfer, we know you work hard for every dollar you send home. We're committed to transparency in pricing, so when you make an online transfer, you'll always know how much your loved ones will receive upfront.

That's not always the case with other money transfer companies. When you look at the numbers, the true cost of money transfer becomes even more apparent.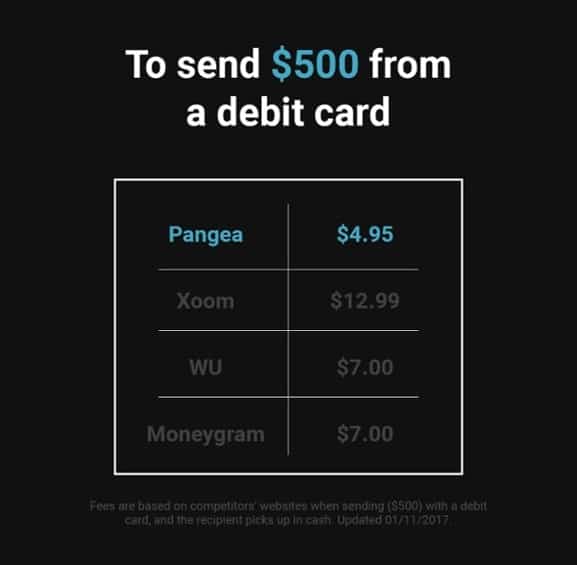 While these companies' fees might start at low rates, they can change wildly depending on the scenario, such as: 

• If you send money to Mexico with a debit card. Let's say you need to send a transfer to a cash pickup location in Mexico and want to pay with your debit card. These money transfer companies start increasing fees when you use a debit card, depending on how much money you're sending. 


• If you send $500 or more with a debit card. When you need to send higher amounts of money to Mexico, these transfer fees only get higher—and sometimes as high as $20 or more! 


• How fast you want your money to arrive. Some companies charge as much as $20 to avoid a 3- to 4-day waiting period and get the money to your loved one in minutes.


At Pangea, we understand that emergencies happen and sometimes you need to send more money, fast. We use our technology to protect you and your loved ones—and to charge only a $4.95 fee.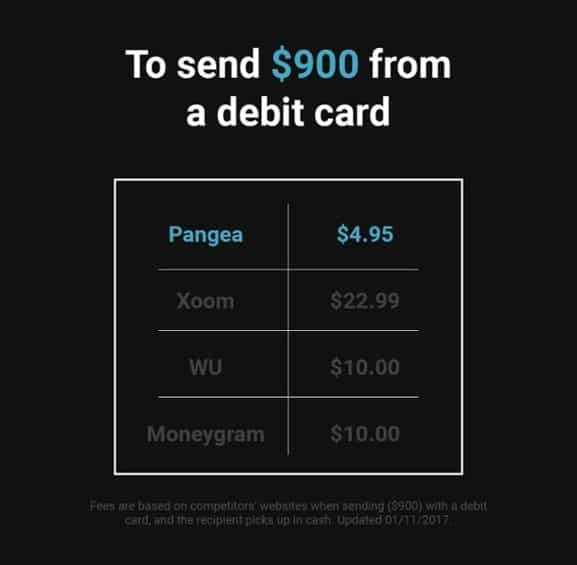 If you ever have any questions about the Pangea Money Transfer app, please visit our Support Center or call us at +1 866-858-9928 at any time! We're always here to help, and of course, ¡hablamos español!

#HappySending